Containers First Puts Safety First.
Keep Your Dangerous Goods and Business Safe. Trust your Dangerous Goods Storage solutions to the experts in hazardous material containment dangerous-good-storage. Container First's portable Dangerous Goods containers will not only keep your dangerous goods secure, they're also certified to meet all legislative standards to protect your business from severe fines and penalties that could result from improper hazardous materials storage. Our Dangerous Goods Containers fully comply with all Australian Standards including AS1940-20054 and the Dangerous Goods Safety Management Act.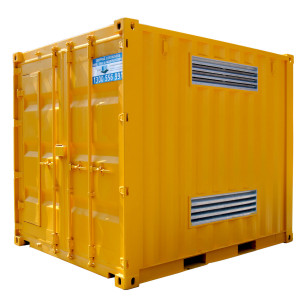 First-rate Protection for Every Application. Our Dangerous Goods Storage units easily allow for efficient access and handling of contents whilst providing the ultimate in protection for both people and the environment. Our fully robust and easily portable containers are ideal for all dangerous material storage including:
Class 3 flammables
Paint and paint solvents
Oil and diesel
Hazardous liquids
Other potentially dangerous substances
In addition to dangerous materials, our quality-built Dangerous Goods containers are the perfect solution for keeping non-hazardous materials safe whilst minimising the risk of spills or leaks.
Containers First Dangerous Goods Storage Containers
are available for either hire or sale. 
3m (10′)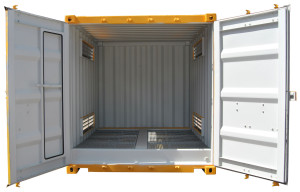 6cm extra height, 4cm extra width over 6m unit
Storage Capacity: 3,750L
Bund Capacity: 1,250L
6m (20')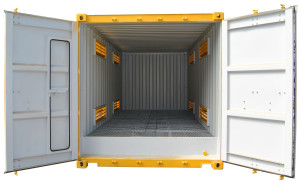 Optional double door side access
Storage Capacity 11,820L
Bund Capacity 3,940L