Where there's now a dusty vacant lot next to the Las Vegas MGM Grand hotel, Aussie entrepreneur Josh Kearney pictures a $50 million extreme sports complex that will feature a sandy beach and shallow 7-acre lake, along with motocross tracks, skate parks, surfing areas, zip lines, whitewater rafting, a boutique hotel, and much more.
Called Vegas Extreme, Kearney says the focal point of the 40-acre complex will be three towers rising up from the Nevada desert constructed out of recycled shipping containers with views that look out over the famous Las Vegas Strip.
The steel and glass structure will host a 60-room boutique hotel, retail shops, an a unique sky farm growing organic produce, some of which would be available for sale to other Vegas restaurants and hotels.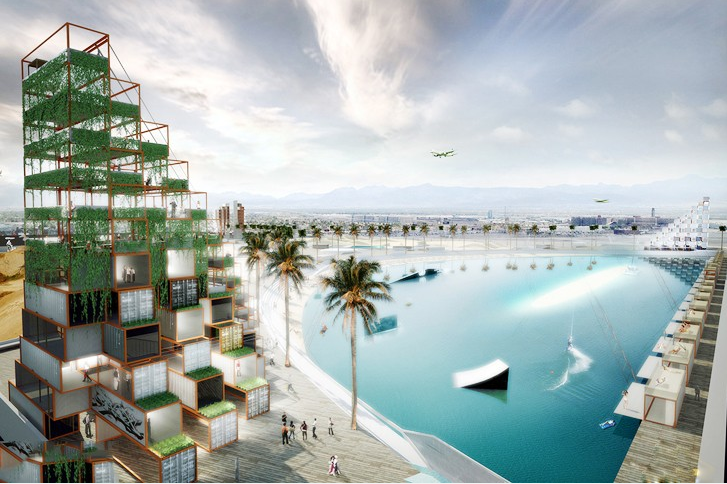 Vegas Extreme won't offer gambling, but instead plans to lure customers with plenty of challenging recreational opportunities along with healthy food and drinks. Kearney thinks the project will inspire casino goers to take a break from the smoky casinos and get out in the fresh air and have some fun.
The project still needs backers, a lease for the land, and approval from the local county officials. Kearney is confident Vegas Extreme will get built. Once approved, construction he says should only take about a year to complete.
Sustainability will play a major role in the amusement park's operation, Kearney says. The complex will be able to generate about 80 percent of the energy it needs to operate thanks to solar panels that will shade the parking lot and about 50 wind turbines.
Kerney estimates a one-day pass to the complex would cost around $200, but adds cheaper tickets to individual attractions may also be available.
We'll be anxious to see if Vegas Extreme becomes a reality in Sin City. We applaud Mr. Kerney for rolling the dice on this one and going for his dream – and his smart choice of using repurposed shipping containers as the main building blocks for the project.